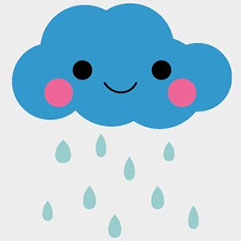 Draw and Write Activity Raining Bats and Frogs! You might have heard the saying, "It's raining cats and dogs." If you could make it rain any two things you wanted, what would you choose?
Dibuja y escribe ¡Lluvia de murciélagos y ranas! Tal vez hayas escuchado el dicho: "Llueve a cántaros". Si pudieras hacer llover dos cosas que quisieras, ¿qué elegirías?
Escribe sobre tu tormenta especial. ¿Qué caería de las nubes y por qué?

Haz un dibujo de la tormenta.