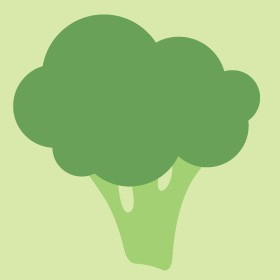 Nutrition and Vocabulary Activity Eat Plant Parts Materials: household fruits and vegetables
Tell your child that people eat plants! Eating plants helps us stay healthy.
Together search your kitchen for edible plants. Look for different parts of plants, for example: carrots or onions for roots; broccoli tops for flowers; lettuce for leaves; beans or peas for seeds; celery for stems; and bananas for fruit.
Then pick out some plant parts to share as a snack!
Actividad de nutrición y vocabulario Comer las partes de las plantas Materiales: frutas y verduras de la casa
¡Díle a tu hijo que la gente come plantas! Comer plantas nos ayuda a estar saludables.
Juntos, busquen en su cocina plantas comestibles. Busquen las diferentes partes de las plantas, por ejemplo: zanahorias o cebollas para las raíces; cabezas de brócoli para las flores; lechuga para las hojas; frijoles o guisantes para las semillas; apio para los tallos; y bananas para la fruta.
¡Luego elijan algunas partes de las plantas para compartir en la merienda!