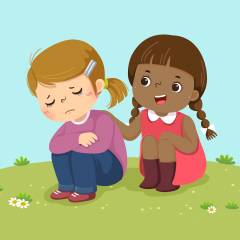 Writing/Drama Activity What Should You Do? Materials: paper, pencil
This exercise helps your child practice being empathetic.
Discuss the following situations with your child. Ask them to think about how they could be kind if they were to find themselves in that situation.
You are playing with friends. Another child asks to join. How does it feel to be left out? What can you say to your friends?

You are at recess. Someone is being bullied. How can you stand up for them?

You see a girl crying. A group of kids is pointing and laughing at her. What can you say to the girl? What can you say to the group of kids?

Your friend tells you a secret about someone. Should you tell this secret to anyone else? What can you say to your friend?
When you're done, have your child choose one of the situations and write a short skit. What would each person in the situation say or do? Then act it out!
Actividad de redacción y teatro ¿Qué deberías hacer? Materiales: papel, lápiz
Con este ejercicio tu niño o niña practicará cómo ser empático.
Habla sobre las siguientes situaciones con tu niño. Pregúntale cómo podría ser amable si se encontrara en esa situación.
Juegas con tus amigos. Otro niño pregunta si puede jugar también. ¿Cómo se siente cuando te rechazan? ¿Qué les podrías decir a tus amigos?

Estás en el recreo. Alguien está siendo acosado. ¿Cómo puedes defenderlo?

Ves a una niña llorar. Un grupo de niños apunta hacia ella y se ríe. ¿Qué puedes decirle a la niña? ¿Qué puedes decirle al grupo de niños?

Un amigo te cuenta un secreto sobre alguien. ¿Deberías contarle el secreto a alguien más? ¿Qué puedes decirle a tu amigo?
Una vez terminen, pídele a tu niño que escoja una de las situaciones y escriba una obra de teatro corta o sketch. ¿Qué diría o haría cada una de las personas en esa situación? Entonces, ¡actúenla!